Protecting vital crops from elephants using chilli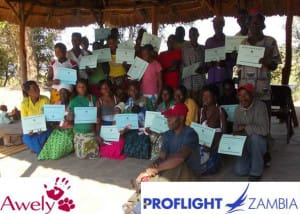 Thanks to Proflight, South Luangwa Conservation Society and Awely, in August CLZ were able to teach 30 more farmers how to grow and use chillies to protect their fields from being raided by elephants. Every year substantial damage is suffered by villagers who rely on subsistence farming to feed their families and it often results in elephant mortalities by response.
CLZ teach farmers how to grow chillies and use them as a protection device in the form of fences and bricks to ward off elephants who hate the smell of chilli! Fantastic local food products company, Rivonia have also agreed to provide a guaranteed market for surplus chillies, making them a cash crop too. In turn elephants are protected from "control" which results in elephant mortalities when wildlife authorities are requested to respond to human wildlife conflict. Thanks to Billy Banda, SLCS and Awely "Red Cap" from South Luangwa who flew to Lower Zambezi to train Stephen Kalio, CLZ's Community Project Coordinator.
CLZ Environmental Education Program: August & September Update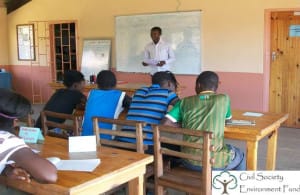 August's annual teacher training workshop was conducted with 24 teachers from the Chongwe area on the northern boundary of the National Park. A great 3 days was spent promoting environmental education within the curriculum and teachers left energised to continue their great work with their own conservation clubs. Deforestation was highlighted as a huge threat as well as some poaching emanating from the area. Thanks to Cesca Cooke and Shaina Irwin for their help during the workshop.
In September we welcomed, Ambrogio Zibbowa CLZ's first volunteer from the University of Zambia. An environmental education undergraduate he has chosen to spend his holidays working unpaid for CLZ. Already he has proved a great help with two school groups from Chiawa and Chongwe and is providing environmental educator Besa with some much deserved help! He was himself a pupil of the CLZ Environmental Education program in previous years and we are happy to welcome him back.
Rabson Tembo, CLZ's Communication Officer travels to Tanzania for GIS training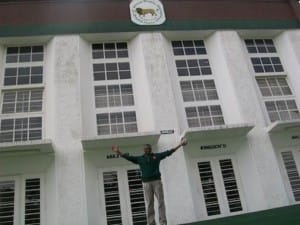 Rabson left Zambia for the first time to fly to the African College of Wildlife Management at Mweka, Tanzania. Over the course of 2 weeks Rabson joined a group of professional conservationists from all over Africa to learn about how to apply Geographical and Information Systems and Remote Sensing to help wildlife protection in the Lower Zambezi.
Thanks to Tusk Trust and African Management Services Company for funding this training.
Congratulations to Rabson, who will also be getting married on 12 October!
Thank you this month to:
all of our supporters including: Gerry Carben, Buya Bamba, Ad-dicts, Fringilla Lodge, Southern Sun, Richard Chapple, Riccardo Garbaccio for pipes for our new cooker, Ant and Lins Wells at Zambeef for organising transport for our interschools conservation quiz at Kabwadu. Edmund Farmer and Brad Reid of Skytrails for assistance with the plane. Andrew Bawden for helping with the Elephant Charge car. Tony Weber at Gwabi River Lodge and Henry van Blerk for supplies from the fishing competition. Assistance with the EEP plaque from Carrol Fleming. George Dietz and Woodward Academy for a further donation. Royal Zambezi Lodge for helping with boats. Mwambashi River Lodge for helping with patrol movements. Musa Daya for his very generous help vehicle maintenance and Charles Davy for financial assistance to install a new repeater system. THANK YOU!
Article written by: Conservation Lower Zambezi