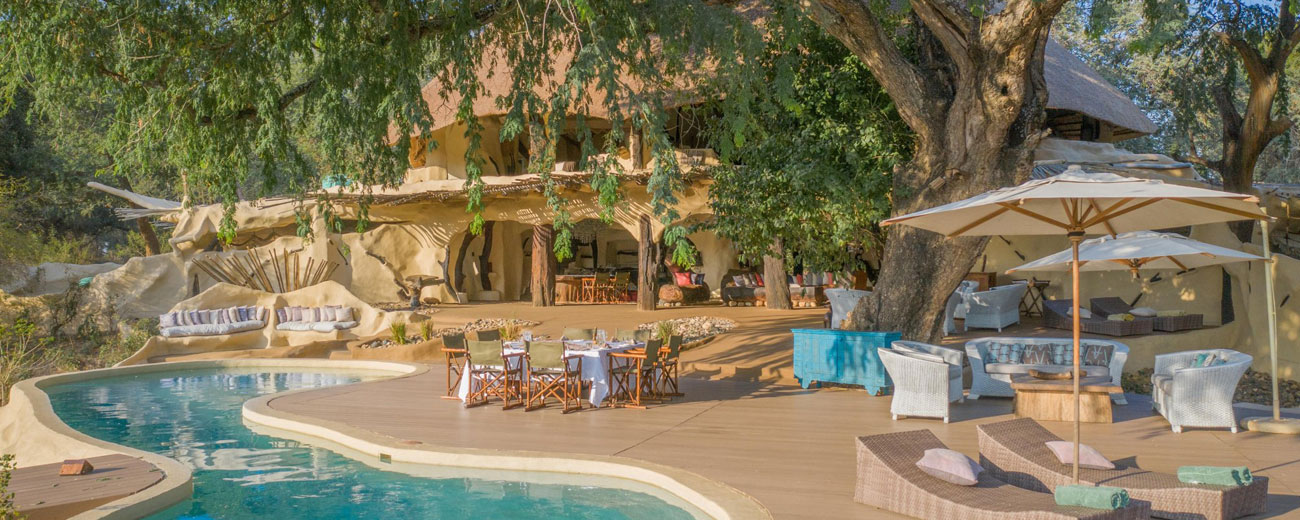 TIME + TIDE CHONGWE RIVER HOUSE
Time + Tide Chongwe House is award-winning safari design at its finest. This stunning two storey, four-bedroom private house is set on a tranquil stretch of the Chongwe River against a beautiful mountainous backdrop. The Chongwe area is famous for large elephants, and they will frequently wander through camp in search of seed pods from the winterthorn trees or cross the river right in front of the house.
Chongwe House blends effortlessly into the tranquil river setting. The design's flowing curves and bends evolve into open living spaces that celebrate the surrounding wilderness. Waterfall showers, private open-air bathtubs, furniture carved from a winterthorn tree and ceilings studded with river pebbles complete the inspired design.
Throughout your stay, a dedicated staff and guiding team will ensure your experience is wonderfully relaxing and enjoyable. Enjoy an impressive variety of safari activities, created for the ultimate exploration of this magnificent African paradise. By land, you can enjoy game drives and walking safaris, or take to the rivers and explore with boat cruises, canoeing safaris and tiger-fishing.
A nearby wildlife hide is great for photography, especially rare nocturnal creatures.
ABOUT THE COMPANY
Venturing to the remotest parts of the continent, Time + Tide's family of safari properties spans Zambia and Madagascar. We offer a modern-day explorer the luxury of time and space and the chance to feel fully alive. Original founders, Norman Carr and the Liebenberg family, are credited as leaders in responsible tourism.
We have over 80 years of combined experience in the space. With the opening of Time + Tide Miavana, we honour these legacies by bringing the same ethos to Madagascar. Across land and sea, our people take extraordinary care in sharing our deep appreciation for the land, wildlife and culture.
We've pioneered a more grounded tourism experience, rooted in conservation and synonymous with Africa's history of ecotourism and preservation. Stop. Look closer. Touch the Earth.