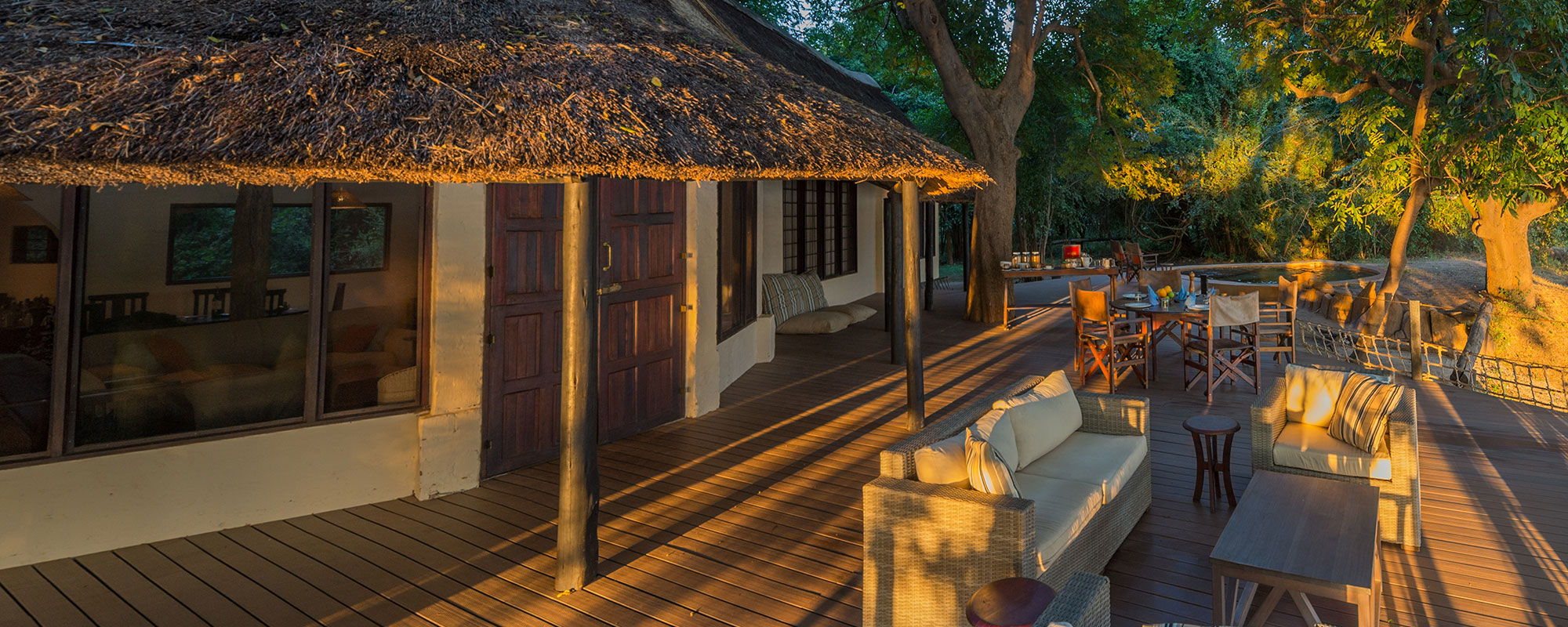 Robin Pope Safaris was established in 1986 is a family run business with several properties in South Luangwa National Park as well as across the borders in Malawi and Zimbabwe.
ABOUT THE ACCOMMODATION
ROBIN'S HOUSE lies on the edge of Robin Pope Safaris' Nkwali Camp. This private house is ideal for families, honeymooners and guests looking for a little privacy. Set apart from the camp, on the banks of the Luangwa River, Robin's House has an amazing view of the river and the animals that come down to drink. The grove of mahogany and ebony trees shades the front of the house and provide a perfect lunch site. There are two bedrooms (a double and a triple), each with its own bathroom, and a central sitting room and dining room. The private kitchen and chef, along with a valet allow meals to be served where and when you like. This is particularly important for families with children. There is also a private guide and safari vehicle for the game-viewing activities.
ABOUT THE COMPANY
Family-owned and run Robin Pope Safaris, established in 1986, offers highly personalised authentic African safari experiences in small and intimate properties across Zambia (South Luangwa National Park), Malawi (Majete Wildlife Reserve, Liwonde National Park and Lake Malawi), and Zimbabwe (Mana Pools). An incredible combination of safari and beach breaks, offering highly personalised experiences.
South Luangwa, Zambia is Robin Pope Safaris' home, offering a selection of four safari camps (Nkwali Camp, Luangwa River Camp, Nsefu Camp and Tena Tena Camp); two exclusive safari houses (Robin's House and Luangwa Safari House) plus two specialist walking trails (Luangwa Bush Camping & Mobile Walking Safaris). Known as home of the walking safaris, for those seeking to truly explore the Luangwa, it is an absolute must to experience the walking trails.
Across the border in Zimbabwe's UNESCO World Heritage site of Mana Pools National Park we have John's Camp. One of the last remaining wilderness experiences, excellent for walking and exploring the mighty Zambezi River.
These properties are complemented by our Malawi offering of Mkulumadzi Lodge, Majete Wildlife Reserve; Kuthengo Camp, Liwonde National Park and Pumulani Lodge, Lake Malawi.