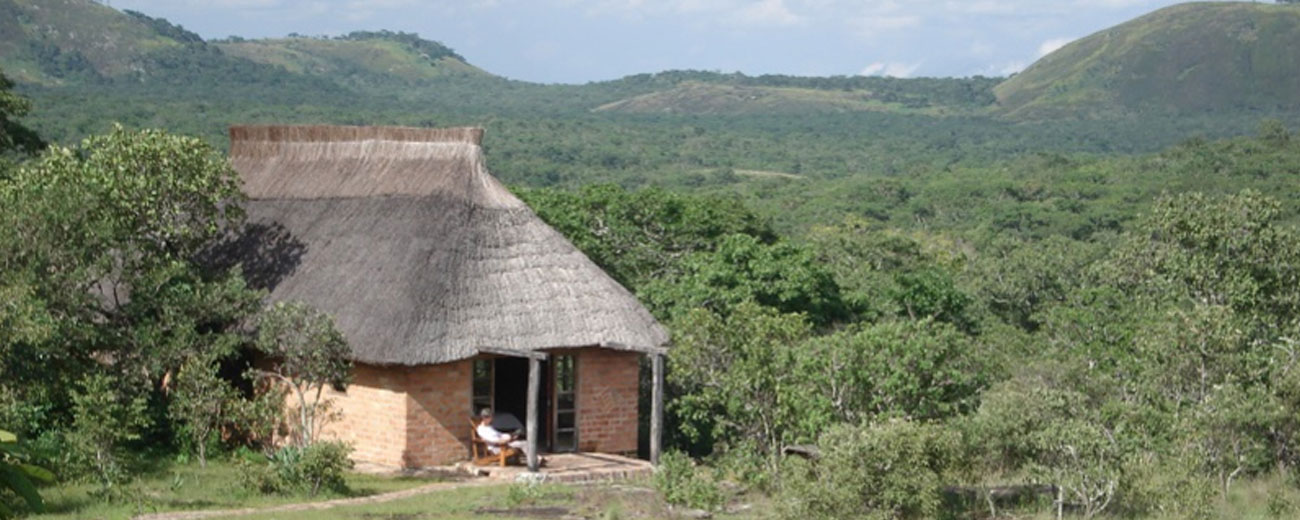 The main camp has a comfortable campsite and a full catering lodge with four chalets – each chalet is named after the specific local timber used in it for making the beams, fittings and furniture.
All the woodwork is handcrafted from a variety of local timbers including Musase (Albezia Antunusiana); Kaimbi (Erythrophleum Aricana); Mubanga (Pericopsis Aangolensis); and Mulombwa (Pterocarpus Angolensis) Saninga (Faurea Saligna) Mutantantshiba (Agauria Salicifolia).
Power is generated by solar and each chalet has its own solar water heather:
Mulombwa is our special stone chalet with a beautiful view over the valley to the east and a separate bathroom with bath, shower and toilet.
Musase is our "family chalet". It is ensuite with a shower and toilet and the main room is divided by a low wall to create two sleeping areas.
Kayimbi is open at the front with a wonderful view to the northeast over the Musamfushi valley. Ensuite shower and toilet and two three-quarter beds.
Mubanga is open to the side in a sheltered position with a view to the south. It is surrounded by trees and good for birders. Ensuite shower and toilet and two three-quarter beds.
The campsites have braai facilities, shared toilets, showers and washing up facilities. There is one campsite room (basic) and a large shelter for groups.
ABOUT THE COMPANY
Initially, the area was identified by Conservation Foundation for its ecological importance to the Luangwa River and Valley as well as its game farming qualities.
When we owners obtained title deeds for part of the area 20 years ago, they developed it into a small but successful lodge attracting the more self-sufficient sort of clients from all over the world to hike, bird watch and ride in and around this beautiful area