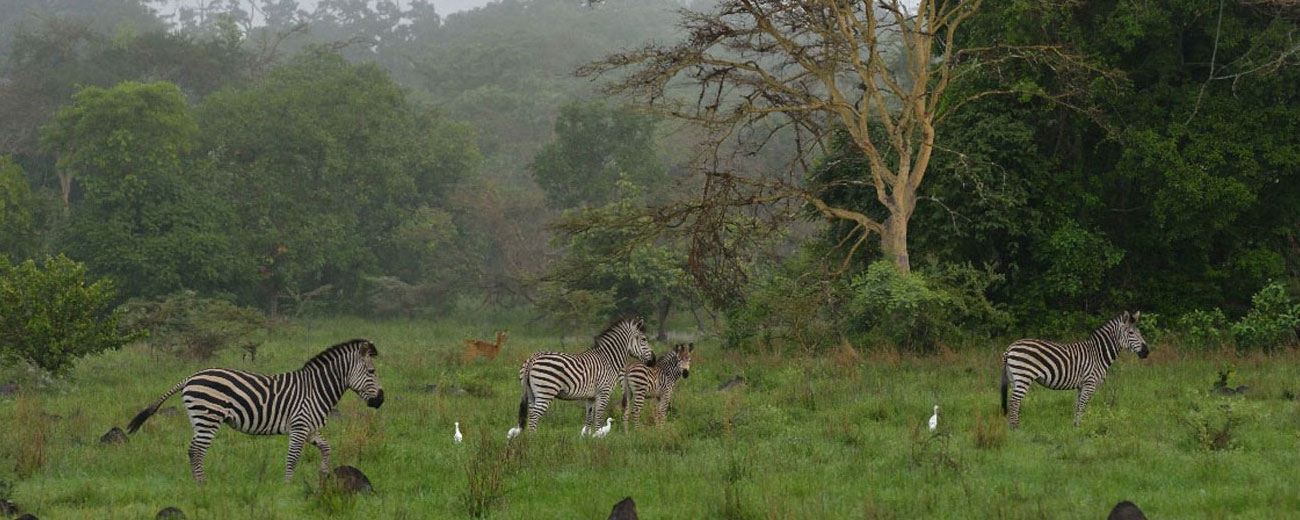 There are 2 permanent lodges in Kasanka, Wasa and Luwombwa
WASA LODGE
Wasa Lodge lies on the edge of Lake Wasa in the eastern half of the park just 12 km from the park entrance at the tarmac road.
It is ideally suited for visiting the hide at Fibwe (just 15 minutes drive or 2 hours walk away) and has a fine view with puku, hippo and sometimes even sitatunga visible from the lodge.
Each rondavel a double bed, ensuite bathroom and private verandah. Lighting is provided (by solar power).
Additional accommodation is available in 6 simpler chalets with separate facilities.
The Lodge also has a new main building housing a Bar, Dining room, Reception and Verandah overlooking the lake. All the buildings have thatched roofs and are in a traditional style.
LUWOMBWA LODGE
Located on the banks of the Luwombwa River in the western half of the park nearer the airstrip, this lodge has also recently been upgraded with the addition of new ensuite chalets overlooking the river. Some of these are family chalets with 4 beds in each.
The prime attraction of Luwombwa Lodge is the river. Unlike most safari river trips, the Luwombwa is a gentle meandering stream heavily fringed with evergreen forest. Birdwatching can be great with African Finfoot, Narina Trogon and Pel's Fishing Owl all regularly seen, not to mention kingfishers, bee-eaters, sunbirds and ibises.
For fishermen, a special permit is available allowing you to catch Bream (Tilapia), Barbel Fish and sometimes the much sought after tigerfish. Motorboats and canoes with guides are available at the lodge.
Luwombwa also has nearby game-viewing, notably at the Chikufwe Plain where the airstrip is located, and Reedbuck, duikers, Lichenstein's hartebeest and Sable antelope are often seen. Camping
There are currently 3 camping sites available for visitors in Kasanka, one is near the pontoon along the Kasanka river, another downstream across the Kasanka at "Kabwe" and the other at the Conservation Centre 1km from the gate.
The availability of these sites depends on conditions and bookings so please enquire before arriving for camping. Campers should bring all their own tents and equipment, as the sites only have a simple toilet, shower and shelter. Staff are on hand to help with water.
SHOEBILL CAMP
Shoebill Island Camp offers accommodation in safari tents under thatch roofs and reed cottages. Each has a double bed, an ensuite shower and flush toilet.
The island has panoramic views over the swamps and gets its name from the Shoebill, which is usually within reach of the camp.
Boating can be arranged in banana boats or dugout canoes. March and April offer an amazing watering wilderness for the adventurous with Shoebills often visible from camp.
The main season is from May to August when Shoebills can usually be seen on canoe trips. September to November offer great birding (though maybe no Shoebill sightings) and the same amazing mammal spectacles.
Shoebill Island camp is managed by the Kasanka Trust, and tours are regularly arranged to take visitors on to Shoebill from Kasanka. This either involves an interesting but bumpy 5 hours drive through villages or a charter flight directly into Chimbwi airstrip, just 1 km from Shoebill Island. Flying in (or out) has the additional advantage of some fantastic aerial game viewing.
A trip to Shoebill Island is highly recommended in addition to Kasanka at any time of year.
ABOUT THE COMPANY
In 1985, a British expatriate who had lived in Zambia on and off for many years visited Kasanka out of curiosity. There were no roads or bridges and no tourists had penetrated the Park for many years, but he managed to explore a little on foot. On hearing the crack of gunshots he concluded that if there was still poaching, there must still be animals!
He was impressed with the beautiful habitats he found and decided to try and save the Park from complete destruction and the threat of losing its National Park status. He teamed up with a local farmer who had also explored the Park a little, and the two used their own resources to employ scouts and build roads, bridges and temporary camps.
These early efforts were encouraged by the government, which had been unable to manage the Park itself. In order to help raise funds and formalise their position, they formed the Kasanka Trust, which was registered in Zambia (1987) and UK (1989).
The Project soon attracted attention from conservationists, and tourism started to bring in a little money to help cover costs. In 1990, the National Parks and Wildlife Services (NPWS) was sufficiently impressed by the progress to sign an agreement allowing the Trust to manage the Park and develop tourism to help fund its activities. This agreement recognised the importance of co-operation with the local community, which has always been central to the trust's philosophy. In May 2003 the new Zambia Wildlife Authority which took over from National Parks and Wildlife Service signed a new agreement for a further 5 years which automatically renews for a further 5 years at expiry. This agreement grants the Kasanka Trust "exclusive rights to manage and develop Kasanka National Park…."
In June 2002 the Trust received a vote of confidence when it's founder David Lloyd was awarded an OBE medal in the Queens Jubilee honours for his vision and determination in seeing the Kasanka Trust project through to where it is today