LAVUSHI MANDA NATIONAL PARK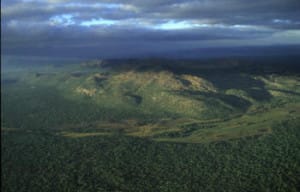 Lavushi Manda is a picturesque park with rolling hills, rich riparian forest and striking rocky outcrops. Though the park is fairly large at 1,500km2, poaching over the last few decades has grossly reduced the number of animals found within the park's boundaries and tourist infrastructure and roads are limited at best. However, a new development project that began in 2011 in affiliation with the Kasanka Trust looks to up the anti-poaching drive and improve roads, so it would be worth monitoring the park's progress in the months and years to come.
Lavushi Manda National Park (LMNP, 1500 km2) holds vast stretches of pristine hill miombo woodlands, large dambo wet grasslands, as well as gallery forests along the headwaters of the Lukulu and Lulimala rivers. A 40 km long dramatic rocky massif runs through the centre. The park covers a large part of the Lukulu and Lulimala river catchments immediately above the ecologically richest part of the Bangweulu floodplains/swamps. The park is of major importance for African and paleartic migrants, and serves as an upland wildlife refuge for ungulates of the Bangweulu in the wet season such as the Roan, Sable and Hartebeest. Although largely depleted, recent visits show there is still an excellent variety of large mammals present in small numbers, including Lion and Leopard. Possibly the last observation of a wild Black Rhinoceros in Zambia was made in LMNP in the late eighties, suggesting the park is highly suitable for reintroduction of the species.