What to do on Lake Tanganyika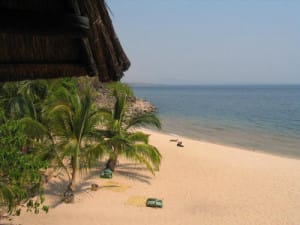 [dropcap type="square" round="yes" color="#f5f5f5″ background_color="#477010″ ]L[/dropcap]ake Tanganyika is the longest freshwater lake in the world at 660 kilometres. It is the second deepest lake in the world at 1436 metres. It covers approximately 32 900 square kilometres and forms the boundary between the DR Congo and Tanzania. It is said that it holds around 18% of the world's fresh water! About 26 rivers flow into Lake Tanganyika and only the Lukuga River flows out. The Lake's temperature ranges from 24 to 26 degrees Celsius all year round, which makes it a perfect destination for water-based activities.
Activities
As well as all the sights to take in, the lake also has a few water-based activities to indulge in. Fishing, Snorkelling and even scuba diving are some of the best of the lake's offerings. The water is warm and there is a large variety of beautifully coloured fish to see. For all water sports, it is important to be aware of the lake's sizeable, if localised, crocodile and hippo population as well as the venomous Tanganyika water cobra. For swimming in particular, always check with locals which areas are considered safe to swim and which not.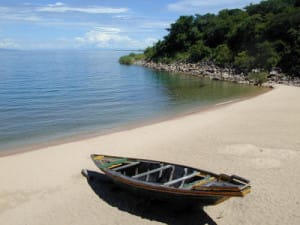 Lake Tanganyika is also a well-renowned venue for fresh water angling with the sheer number of fish in the lake rivalling the variety of species. Amongst the favourites are the nkupi, the goliath tigerfish and, perhaps above all, the Nile perch, which can reach up to 80kg in weight. There is a very popular fishing competition that takes place in April each year, hosted at Ndole Bay Lodge. Here are some suggestions of what to do when you are in the area:
Snorkelling and Scuba Diving – the lake is hugely popular for diving with great visibility and a wide variety of fish. Spend the day underwater exploring the incredible topography of this immensely deep Lake with a wide variety of pretty cichlids   or a glimpse the world's only fully aquatic cobra – Storm's water cobra (endemic).  Certified scuba diving courses are offered by Ndole Bay Lodge.
Water sports – other than the popular diving in the lake, visitors can enjoy sailing, swimming, boating, wakeboarding, kitesurfing and waterskiing.
Sport fishing – while there are over 280 species of Cichlids in the Lake, there are larger species that provide a larger fight. The Sangala Pamba can grow to over 2 metres in length and weigh over 100 kgs. Common catches are Nile Perch (up to 50kg), Lake Salmon (up to 25kg), Nkupi/yellowbelly (up to 4kg), Tigerfish, Bream, Lake Trout ,Vundoo, Frontosa, Mbilli and a variety of other fish. Less common but still occasionally caught are the rare Golden perch and the giant Goliath tiger (up to 30kg). While the surrounding lodges encourage catch and release, many of the fish are exceptional eating and they will happily prepare your day's catch for dinner.
The Zambia National Fishing Competition (ZNFC) is held on Lake Tanganyika in March every year and attracts up to 100 fishermen from throughout Africa
Kayaking – various companies provide a few hour or full day trips. Set off towards one of the many islands with a picnic and snorkelling gear in hand.
Lake game viewing – while there are plenty of fish to be seen during your diving and snorkelling trips, there are also many aquatic critters to be seen such as otters, freshwater crabs, speckled eels and freshwater jellyfish (harmless).