At the Bush-Spa we thrive on our unique location! There are plenty places in the world where one can have a Spa treatment, but only a few where your wellness session might be extended due to unique sightings of visiting wildlife. Our competitive edge besides our location is our ability to use seasonal and indigenous ingredients creatively to spark interest with safari guests. We back that up with the best service and caring touch of our Zambian therapists. Our combination of unique services, outstanding location and our interaction with the Spa guests is proven to be a huge success.
We are therefore very proud to be nominated again for some prestigious Spa Awards.
International Safari Awards 2016 nominee for Best Safari Spa & Retreat!
Congratulations to our team! The Safari Awards are THE international recognized institution and features many safari properties and associated businesses all eligible for their awards. We are very proud indeed to be part of their nominees.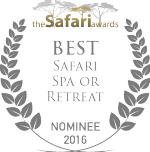 World Spa Awards nominee for Zambia's Best Safari Spa
Originated by the organisation World Travel Awards, currently celebrating its 22nd anniversary, the World Spa Awards is being launched into the highly lucrative and rapidly growing spa tourism industry. They aim is to drive up standards within the spa industry by rewarding the organisations that are leaders in their field. The voting methodology is simple; votes are cast by professionals working within the spa industry – senior executives, travel buyers, tour operators, agents and media – and by the public.

Being Nominated for Best Spa in the World Wellness Awards
The World Spa & Wellness Awards recognises and reward the work that spas do around the globe. One of the leading honours in the industry, the awards acknowledge excellence of care, service and standards and aim to inspire spas around the world and serve to raise global industry standards. As part of the comprehensive judging process, all shortlisted spas are visited by both an official and a mystery judge. Please keep your fingers crossed for us, as we need our hands to offer the best Zambian treatments.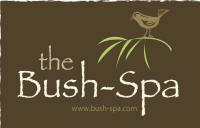 Compliments to our entire team. They are working so hard to reach the top spot amongst all other industry competitors. Our Bush-Spa has now set a benchmark as an industry leader in Zambia with winning international Awards and being nominated for some more! This surely will give us the opportunity to market our fabulous treatments, the natural experience and Zambia in general.
We thank you, our valued Spa guests for your support and look forward welcoming you (back) to the Award Winning Bush-Spa of South Luangwa National Park!