TRAVEL BY TRAIN
Zambia has three main internal train lines:
Livingstone / Lusaka
Lusaka / Copperbelt
Kapiri Mposhi to the Northern border with Tanzania
The main train station in Lusaka is in Dedan Kamathi Rd, one road east of Cairo Rd.
The Day Train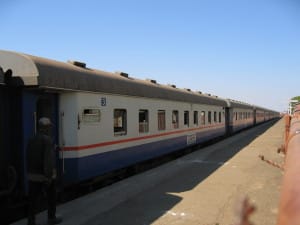 There is a train from Livingstone to Lusaka on Monday and Friday at 20h00 and takes  between 13 and 14 hours. This train goes on to Kitwe on the Copperbelt. Prices vary but are not expensive at all.
The Monday train arrives on Wednesday morning in Kitwe, and the Friday train arrives on Saturday.
The train has no sleeping carriages only seating. Make sure you book a family compartment, first class, although they're not much better than second class, and bring all your own food as well as drinking and washing water. Seats can be prebooked at the station or by phoning +260 (0) 961 195 353
The Zambezi Express
There is also an express train (The Zambezi Express) leaving Livingstone on Sundays, Tuesdays and Thursdays at 14h30, arriving in Lusaka at 11h00 the next morning! Yes, 18 hours to travel 570kms – but although this sounds like wasted time – it's actually a great option because everyone else will be catching the bus so you'll probably have the whole of first class to yourself and for around $10 you have a bed for the night and can see a bit of real Zambia along the way. It leaves Lusaka on Mondays, Wednesdays and Fridays at 19h30 and arrives in Livingstone at 6h10.
The Tazara Line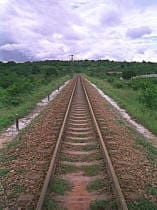 The Tazara Line from Kapiri Mposhi to Dar es Salaam in Tanzania leaves every Tuesday and Friday at 16:00 and takes 2 days. On Mondays, Thursdays and Saturdays, a train leaves from Kapiri Mposhi to the border town of Nakonde and back, stopping at all main towns along the way.
Bookings for the Tazara line must be done a week in advance at Tazara house, opposite the market in Independence Ave on Tuesdays and Thursdays. Tel: +260 1 220646. To be safe, ask the station police to escort you to a taxi.
Here is a recent account of the Tazara train journey from a group of backpackers. (November 2010 courtesy Danielle Wilson)
[blockquote]
Having spent a great month in friendly Zambia, the next destination along our journey was Tanzania. We decided to take the Tazara Train from Kipiri Mposhe, a three hour bus ride from Lusaka. Luckily we are students and were therefore eligible for a 50% discount on our tickets, bringing the total price down to only K97000 Kwacha each. Since the train takes anywhere from 2-4 days (it sometimes breaks down) $20 was a very affordable price! There were 3 of us travelling so we decided to go first class, which consists of a 4 man private cabin.
We had to buy the extra ticket at full price, but it was definitely worth it. We had our privacy and lots of space for our luggage making it a comfortable ride. The cabin was simple, with 4 beds, a small table, a fan and a great view! It was a little dusty, but pretty clean for the most part. Upon our arrival, a very sweet train attendant, Candy, greeted us and brought us soap, toilet paper a bottle of water and a few sweets. The toilet was reasonably sanitary and we often saw Candy on all 4's scrubbing away! There was a shower available, although the water pressure was very weak. We felt very safe and never had a problem with anyone strange entering our room or trying to climb into the window like we had heard beforehand. The only time we were hassled by vendors was at the Tanzania border, the rest of the trip was quiet and peaceful. Crossing the border was way too easy! We didn't even have to leave our cabin; the immigration officers came right in and even let us purchase our visas and exchange money (be sure to check the exchange rate before hand because these guys will try to rip you off!) We actually never had to get up for anything.
We had an attendant come to our cabin to take our orders for each meal and then bring it to us when it was ready. We would advise anyone taking the train to bring some food of their own. Although it was pretty tasty, chicken /beef and rice is the only item on the menu, which gets very repetitive. We would also advise travelers to bring lots of water. You can purchase soda, beer or water, but we have heard stories of the train running out of water.
All in all, we had a very positive experience on the Tazara. Even though it was quite bumpy at times and it frequently stopped for up to 30 minutes, 52 hours of travelling seemed to wiz by!
With good company and a month of wonderful experiences in Zambia to talk about, it's no wonder that we enjoyed our trip. – Dani Wilson