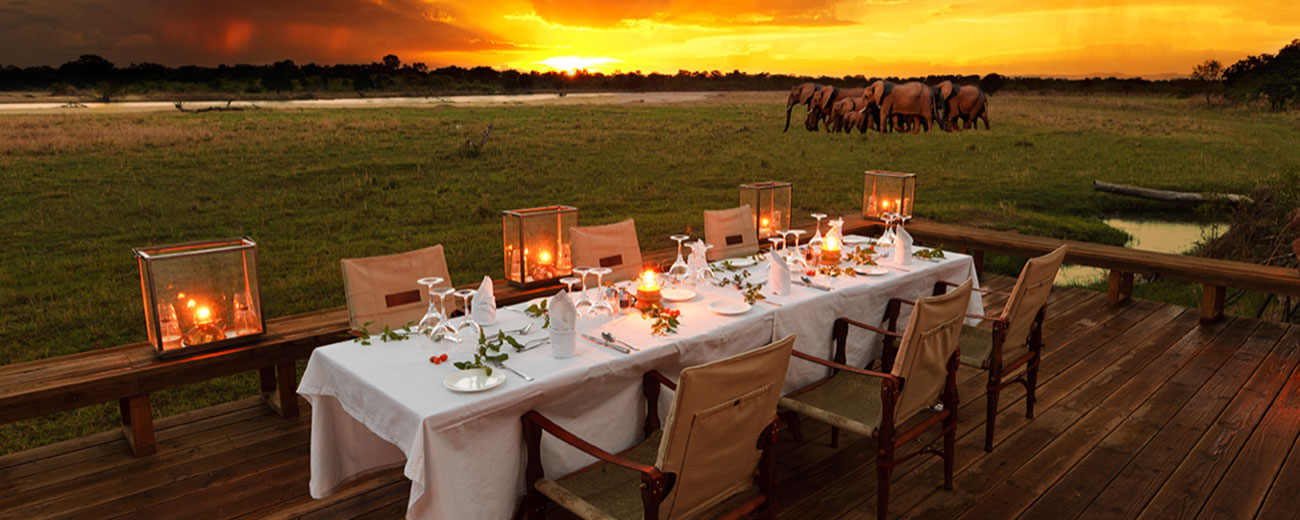 The Bushcamp Company operates Mfuwe Lodge, the Director's House, and six Bushcamps, all located within South Luangwa National Park.
Zungulila is a charming camp that embodies the essence of old Africa and a bygone era, with breathtaking views onto the Kapamba river and an expansive plain where natural springs attract huge herds of game. Zungulila is eminently peaceful, and you may be tempted to stay forever!
The camp features a boma with a firepit for evening sundowners, and a deck where you can dine under the stars. The decor at Zungulila is reminiscent of a bygone era, and it's impossible not to relax and slip into its peacefulness.
Rooms
Up to eight guests can enjoy the serenity of Zungulila in four spacious tents. Built under thatch roofs, each shaded tent has its own private bamboo veranda with immense views over an impressive variety of wildlife – from thirsty elephant at the springs and flocks of birds on the river, to prowling lion and large herds of buffalo on the grassy plains. With stylish interiors, en suite bathrooms, hot-and-cold running water, outdoor showers, and most of all, the large outdoor bathtubs, you can enjoy your creatures and your creature comforts in this classic tented Bushcamp. Two of the tents have two double beds, while the other two each have a king bed. Zungulila is open from April to January.
Activities
If you long to explore Africa as it used to be, then come to Zungulila. Options at Zungulila, as with all our Bushcamps, include a morning walking safari or game drive, or combination of the two, as well as an afternoon/evening game drive. On special occasions we can also arrange an afternoon wading through the cool waters of the Kapamba where a scenic sundowner or special meal will be waiting for you.
The Bushcamp Company operates Mfuwe Lodge, KuKaya, and 6 Bushcamps in South Luangwa National Park, Zambia. Mfuwe Lodge comprises 18 chalets, a 2-bedroom family unit, pool, curio shop, and spa. KuKaya has four 2-bedroom units and 1 single unit, all with additional sleeping space. The Bushcamps are in the remote southern part of the Park, with only 4 chalets each, offering an exclusive, intimate experience.
South Luangwa is the home of walking safaris, providing a perspective of the bush that you don't get from a vehicle. Many of our guests prefer to do walking safaris each morning at our Bushcamps, and for the ultimate in walking safaris, guests can walk between several of our Bushcamps. We have extra guides and vehicles in camps, which provides flexibility for guests that may prefer to do game drives rather than walks. We can arrange private guides for clients for ultimate flexibility. The average guest stay is 7 – 10 nights at a combination of properties.
Mfuwe Lodge is perhaps best known for the elephants that walk through Reception each October, November, and December to reach the wild mango tree in the courtyard.
The Bushcamp Company is involved in 3 conservation and community projects. Through our Commit to Clean Water initiative, we have drilled nearly 300 boreholes in the Mfuwe area, bringing safe drinking water to nearly 54,000 people each day. We feedover 3800 students each day through our Meal-a-Day programme. Our Education Scholarships are assisting over 350 students to obtain primary, secondary, and tertiary education.