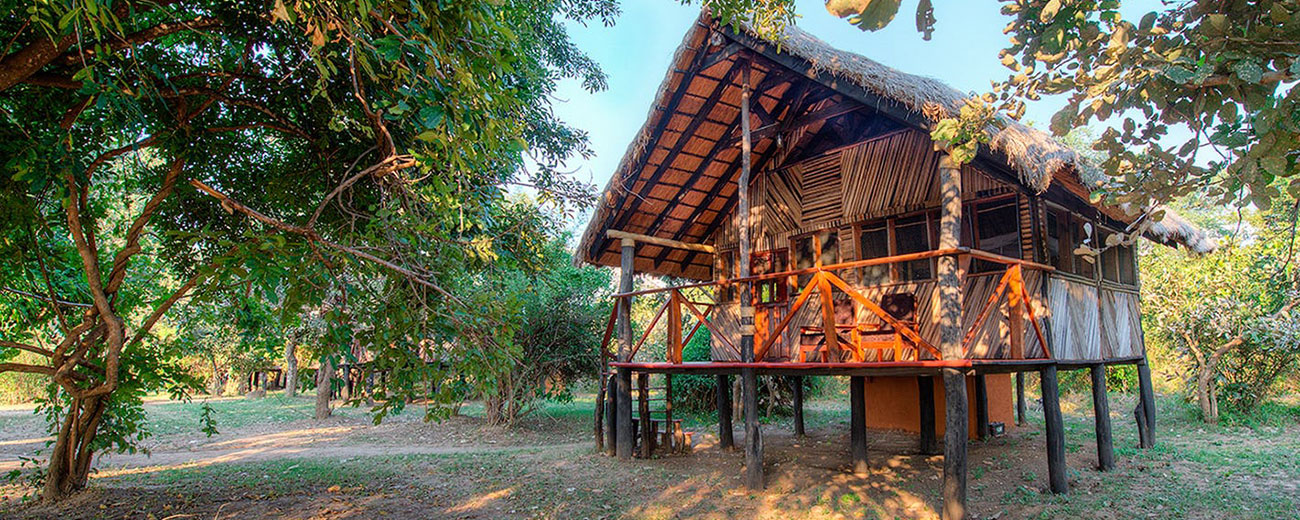 Zikomo Safari is across the river from South Luangwa National Park. It is set amidst a valley filled with diverse African wildlife. This peaceful bush lodge and campsite is the perfect setting for your African Photo Safari.
Whether you choose a game drive, an exciting bush walk, a visit to the local village, a visit to the hot springs, or time out simply relaxing in a hammock, your visit will amaze you.
Only a forty-five (45) minute drive from Mfuwe International Airport, in an area away from other safari lodges, Zikomo Safari is spread under a canopy of ancient shade trees on the banks of the Luangwa River. It is in the Nsefu sector. This sector is one of the least crowded and richest in wildlife areas in the world.
Our eight handcrafted chalets are well furnished with en-suite bathrooms and private decks from which to view the river and wildlife. There are electric fans, mosquito nets, sinks, showers and toilets in each.
Seven chalets have a double and a single bed. Two family size chalets offer two rooms, a double bed and two single beds.
Four chalets are situated to the west of the main lodge. These four are built off the ground a meter and half. To the east are five chalets constructed at ground level.
All chalets are spaced apart for privacy and comfort. In order to ensure an intimate experience, our maximum capacity is nine couples.
Zikomo Safari is owned and operated by an American family who oversees proficient Zambian managers and staff. Top guides, guides with over fifteen (15) years experience in the Luangwa Valley, work here.
Many activities begin and end at the comfortable main lodge, bar and dining room.
We offer day and night game drives, walking safaris and a variety of tours. Tours to:
Chichele hot springs
the local village
the local animal rescue centre
shopping at Tribal Textiles
the adjacent island
the main part of the park
the neighbouring escarpment to look for sable.
HISTORY
The first time the Wallace family, the American owners, stepped into the Nsefu sector they were overwhelmed by the wildness of the area and by the diverse and plentiful wildlife. Their visit seemed to them to be a trip back in time, a return to old Africa with friendly people and abundant wildlife.
Zikomo Safari is the result of their ambition to share this experience.
Photographic safari camps, like Zikomo Safari, help save wildlife. Photographic safari camps Promote international eco-tourism and Create jobs for locals.
At a time when wildlife is in danger all over the world, and especially in Africa, photo safari camps help people, whether they live in Zambia or outside of Zambia, to see the value of the wild places remaining in Zambia.
An old African saying, "once you get the dust of Africa on your boots, you will never be able to kick it off" applies. The experience of Africa stays in your heart forever. The dust of Africa is waiting to get into your boots now.
FACILITIES
Bar
Cell Phone Signal
Child Friendly
Games Room
Gym
Restaurant
Swimming pool
Wheelchair friendly
Wi-Fi
ACTIVITIES
Village Trips
Walking Safari (on request)
Night Drives
Game Drives
Please Contact us for our rates
INCLUDES
VAT
Transfers
Cultural Tours
All Meals
All Local beverages
Accommodation
2 Safari Activities per Day