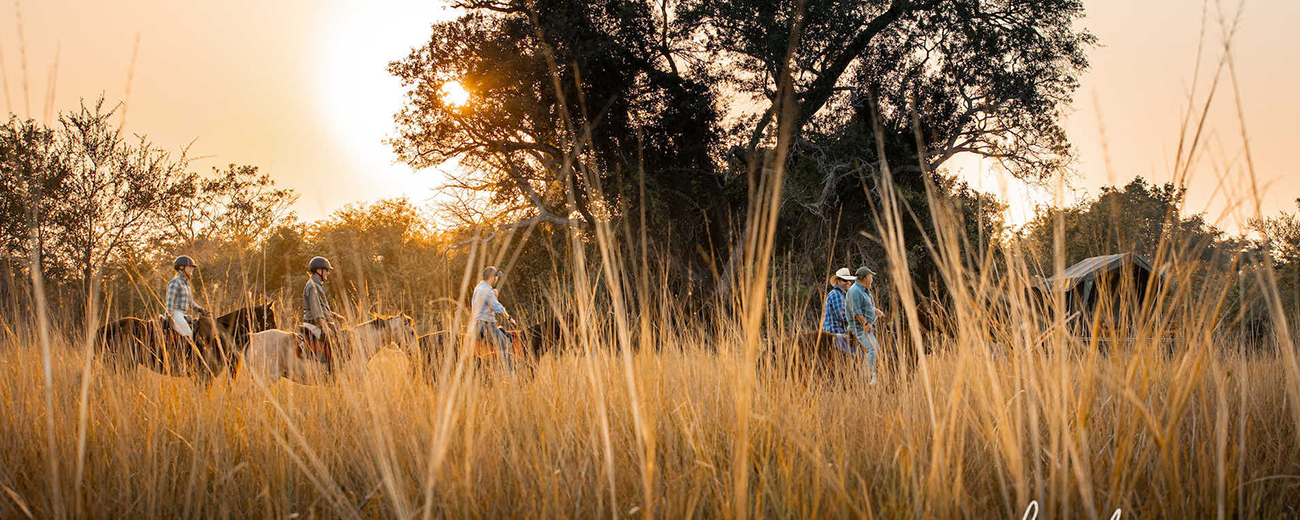 ZAMBIAN HORSEBACK SAFARIS
We offer riders the opportunity to ride up close to plains game – galloping with wildebeest and zebra are life-changing experiences. If you are a rider, there is simply no better way to see Zambia than from the back of a well-schooled and fit horse. We ride across the Simalaha Wildlife Conservancy – following the wildlife over 2-4 days. With an option to sleep out under the stars on one night, this is the epitome of what a true 'safari' is all about.
Zambian Horseback Safaris is dedicated to preserving the magnificence of the Simalaha Wilderness alongside the communities that live there. Every visitor to this camp impacts the way the community thinks about their wildlife and their environment. This place of wild beauty is an ecology worth holding onto, not to mention the Lozi culture with their long term history on the Zambezi River. Our 7-night stay offers riders endless canters on the Zambezi floodplains, ending off with a few nights in the beautiful rustic luxury of Chundukwa River Lodge – our sister operation and stables – only a stone's throw from the magnificent Victoria Falls. We welcome non-riding partners and those yearning for an authentic wilderness getaway.
FACILITIES
Eco-Pool
Hot Showers
Private Tents
Star Beds
WiFi
Gowns
Water Flasks
Organic Toiletries
ACTIVITIES
Horse Safari
Horse Riding
Cultural Experience
Walking
Birding
Fishing
Star Beds
A stay at Zambian Horseback Safaris allows for pure riding freedom over ancient floodplains without holes – providing the space for long stretches of fast-paced riding on well-schooled horses, as well as the opportunity to explore ancient lands, trees, the Zambezi River and enjoy a privileged encounter with the Lozi people of the Simalaha.
Experiencing this is what makes our horse safaris so special. Your ride contributes towards the local community, their wildlife and their land.
Your host at Zambian Horseback Safaris is Doug Evans – one of Zambia's most respected horsemen and a conservationist who has been exploring, observing and championing wild places in Zambia for over 40 years. Doug's dream of leading horse-lovers on multi-day rides in a remote wilderness has come true in the Simalaha Wildlife Conservancy and it is due to this passion that our horse safaris have become well known for offering exceptionally high standards of guiding.
Please Contact us for our rates
INCLUDES
A Full Board Stay (All your meals – homecooked, delicious, healthy. Your stay with also include bush picnics, pop-up sundowners, snacks, house wine, beers, soft drinks and teas & coffees)
5-7 hours of riding per day, depending on your preference. We make a provision of two horses per rider
Accommodation in our luxury ensuite tents with hot showers, lounge facilities and a shared eco-pool
VAT, Tourism Levy & Service Charges
EXCLUDES
Park Fees of USD $50.00 per person per night are payable as a direct contribution to the Simalaha Community Conservancy toward their wildlife and community projects. Thank you for supporting Responsible Tourism!
Transfers to and from Zambian Horseback Safaris which are dependent on your own itinerary / travel plans
Premium drinks
Personal medical and travel insurance with medi-evacuation cover (compulsory)
LOCATION
Zambian Horseback Safaris