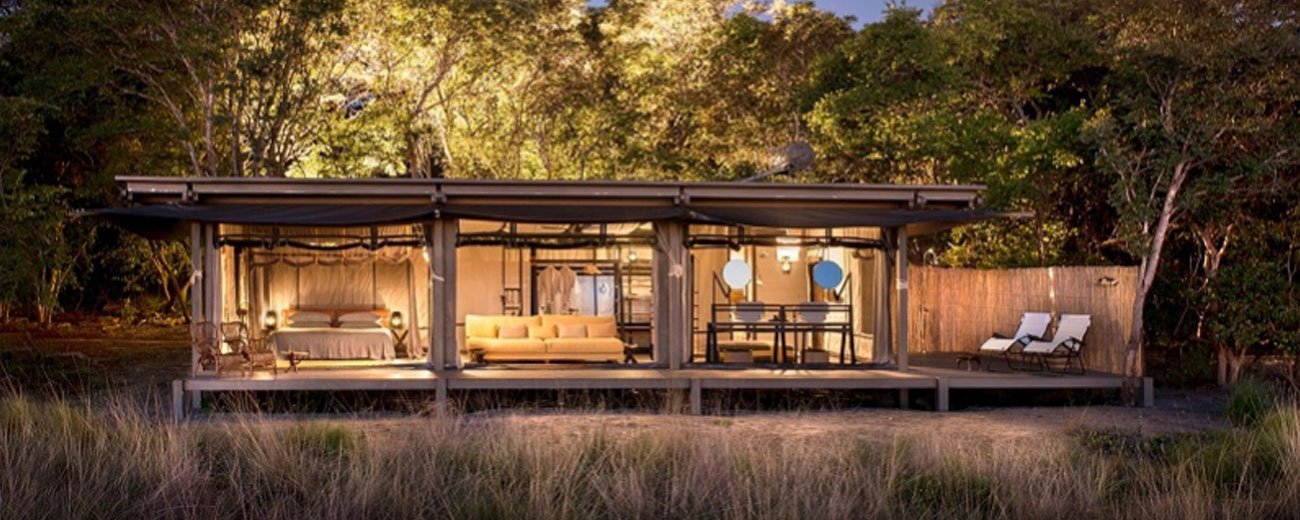 TIME + TIDE KING LEWANIKA
Despite its luxurious design, Time + Tide King Lewanika retains its safari authenticity with canvas walls, indoor and outdoor showers, decks overlooking the plains and the use of natural materials. Elements of leather, cotton and canvas complete the design. The villas offer total immersion in the vast landscape, allowing travellers to experience nature's masterpiece in a meaningful way. With award-winning guides and intimate safari excursions, we bring unrivalled access and absolute exclusivity to the region.
Experience the magic of Liuwa Plain, which is home to Africa's second-biggest wildebeest migration, magnificent birdlife, a growing cheetah population and the famed Lady Liuwa lion pride. King Lewanika was conceptualized in collaboration designers Silvio Rech and Lesley Carstens, and African Parks, the non-profit that manages Liuwa Plain with the Zambian Department of National Parks and Wildlife and the Barotse Royal Establishment. Liuwa Plain is an area rich with stories – one of the favourites is the legend of Mambeti and Lady Liuwa.
Mambeti of the Lozi tribe, lived, died and was buried nearby to camp, legend has it she was reincarnated into Lady Liuwa, the lioness and matriarch of Liuwa's lion pride. Local people believe that this explains why the lioness is receptive to people and spends so much time in the same woodlands area frequented by the elderly lady in her twilight years.
ABOUT THE COMPANY
Venturing to the remotest parts of the continent, Time + Tide's family of safari properties spans Zambia and Madagascar. We offer a modern-day explorer the luxury of time and space and the chance to feel fully alive. Original founders, Norman Carr and the Liebenberg family, are credited as leaders in responsible tourism.
We have over 80 years of combined experience in the space. With the opening of Time + Tide Miavana, we honour these legacies by bringing the same ethos to Madagascar. Across land and sea, our people take extraordinary care in sharing our deep appreciation for the land, wildlife and culture.
We've pioneered a more grounded tourism experience, rooted in conservation and synonymous with Africa's history of ecotourism and preservation. Stop. Look closer. Touch the Earth.
ASSOCIATIONS
ATTA (Africa Travel and Tourism Association)
APTA (Association promotion of Tourism Africa)
Traveller Made
XO Private