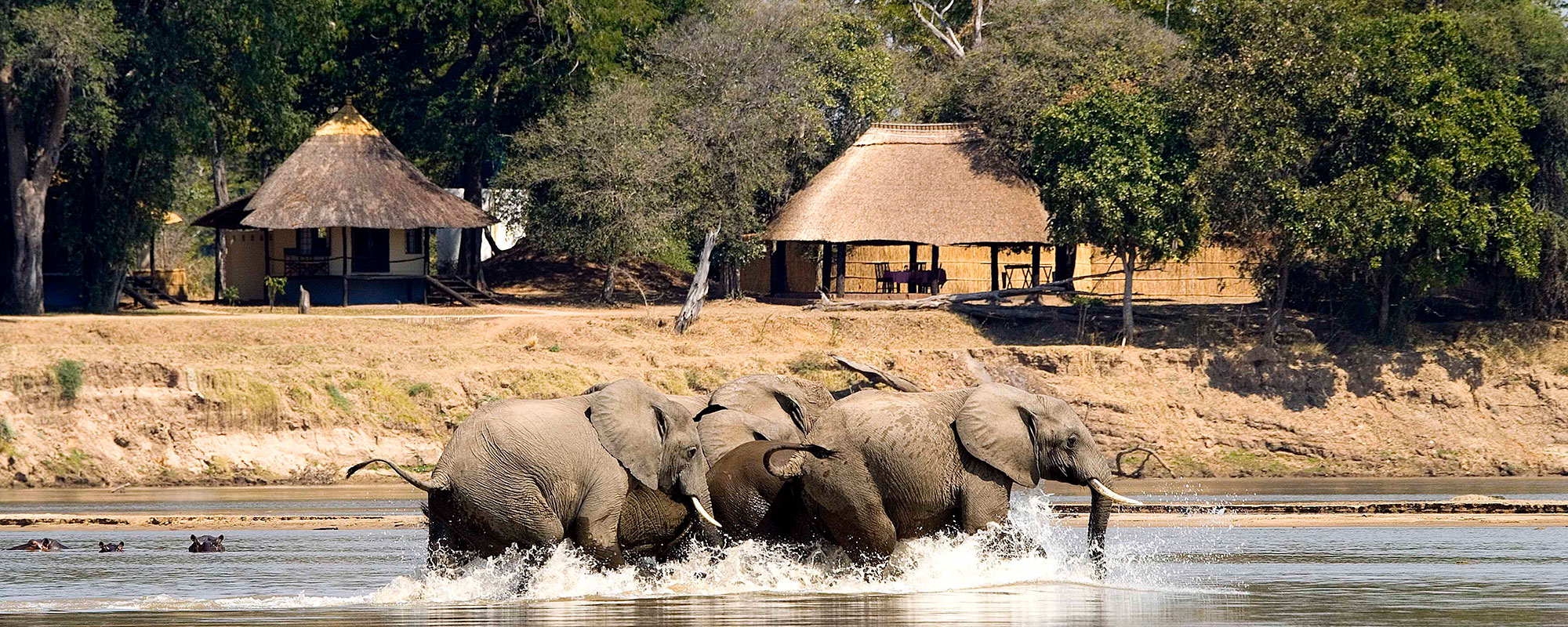 Nsefu Camp is located on a beautiful bend of the Luangwa River within the exclusive Nsefu Sector of the South Luangwa National Park. Nsefu was the first safari camp in Zambia and dates back to the 1950s. The Nsefu Sector was recognised then as a phenomenal area, and it still is.
Robin Pope Safaris reopened the camp in 1999, keeping with the original rondavel style. Together with its sister camp Tena Tena, they are the only two camps in the Nsefu Sector. The view of the river from Nsefu is superb and includes a terraced area where animals feed during the day.
The bar is tucked in beside a huge dormant termite mound, overlooks a waterhole that is very productive for game, especially leopard at night. The original rondavels have been extended, with a spacious bathroom added. Each room has a clear view of the river, through large windows and from the new wooden veranda.
ACTIVITIES
Game Drives
Birding
Village Tours
Walking Safari
Robin Pope Safaris was established in 1986 is a family run business with several properties in South Luangwa National Park as well as across the borders in Malawi and Zimbabwe.
Family-owned and run Robin Pope Safaris, established in 1986, offers highly personalised authentic African safari experiences in small and intimate properties across Zambia (South Luangwa National Park), Malawi (Majete Wildlife Reserve, Liwonde National Park and Lake Malawi), and Zimbabwe (Mana Pools). An incredible combination of safari and beach breaks, offering highly personalised experiences.
South Luangwa, Zambia is Robin Pope Safaris' home, offering a selection of four safari camps (Nkwali Camp, Luangwa River Camp, Nsefu Camp and Tena Tena Camp); two exclusive safari houses (Robin's House and Luangwa Safari House) plus two specialist walking trails (Luangwa Bush Camping & Mobile Walking Safaris). Known as home of the walking safaris, for those seeking to truly explore the Luangwa, it is an absolute must to experience the walking trails.
Across the border in Zimbabwe's UNESCO World Heritage site of Mana Pools National Park we have John's Camp. One of the last remaining wilderness experiences, excellent for walking and exploring the mighty Zambezi River.
These properties are complemented by our Malawi offering of Mkulumadzi Lodge, Majete Wildlife Reserve; Kuthengo Camp, Liwonde National Park and Pumulani Lodge, Lake Malawi.
INCLUDES
All meals
All game viewing activities (game drives, walking safaris, boating – depending on season)
Laundry
Bar
Transfers to/from Mfuwe Airport
Meet & greet at Lusaka & Mfuwe
EXCLUDES
Visas
Flights
Tourism Levy
Conservation and Community Fund & Park Costs.