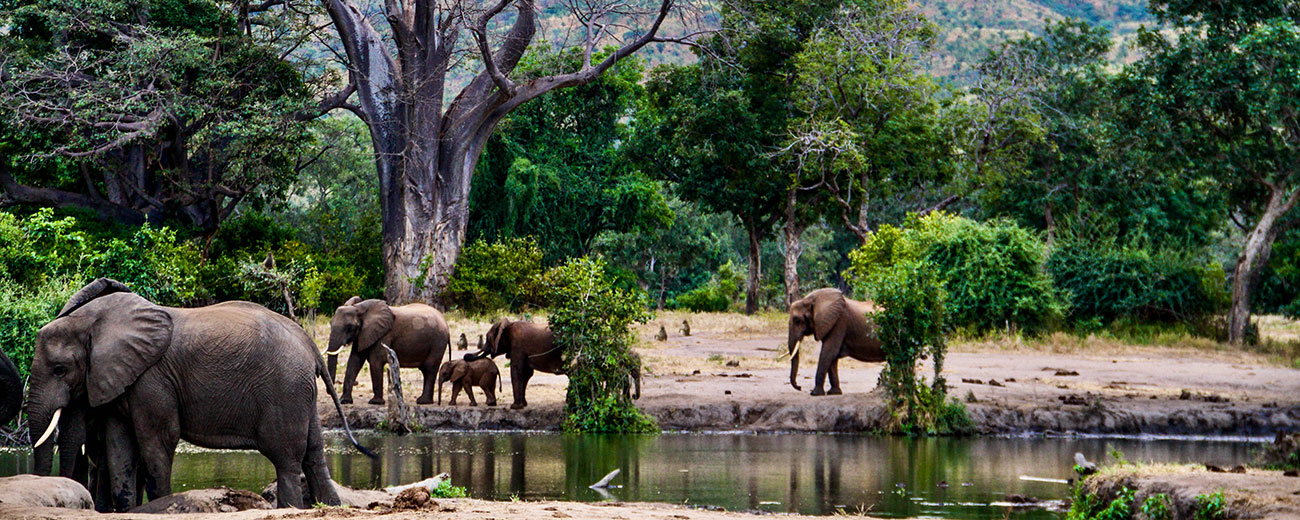 If you are looking for premium self-catering accommodation at affordable rates, you are in for a treat.  The Lower Zambezi Lodge is situated within the beautiful Chiawa GMA on the banks of the Zambezi River, nestled at the foot of the Zambezi Escarpment & opposite Mana Pools National Park. Shaded by acacia and combretum trees, our lodge affords the perfect place to admire the quiet majesty of the river and to explore the surrounding wildlife. We have seven chalets available, of which four can accommodate 2 guests and three, 3 guests (17 in total).  With our premium self-catering option, you bring your own food and beverages and our team can prepare your meals for you.
The Lower Zambezi National Park is approximately 10 km away from the lodge, whilst proximity to the river and the mountains provides a variation in topography and vegetation unrivalled by any other park in Zambia. Whether you want to capture breathtaking photography, experience the wondrous wildlife of the region firsthand or simply kick back with a book, you will not be disappointed.
FACILITIES
River views throughout
Large dining area/lounge
2 Fireplaces
Kitchen area
Solar heated showers
En-suite bathrooms
WIFI (in dining area)
ACTIVITIES
Walking safari (on request)
Sunrise/sunset boat trip (on request)
Safari guide (on request)
Fishing (on request)
Photography trips (on request)
Birdwatching
Our premium self-catering lodge offers seven individually designed chalets on the banks of the Zambezi, with unparalleled views of the majestic river. The chalets are built from locally sourced materials. The stones are from the Msaku and Nyamangwe rivers, and the timber and grass from nearby villages. They are tastefully furnished in a comfortable, natural style, each with its own bathroom and a solar-heated shower. Utmost care has been taken to ensure the lodge is in harmony with its surroundings, and that nothing distracts from the sights and sounds of the river and the bush.
Amenities include a "boma" (common area), with kitchen and spacious dining facilities, as well as 2 fireplaces. Concerted efforts are also being made to ensure the lodge is as eco-friendly as possible. Wifi is available from the dining area in the morning & evening.
Important note: We are an 'open camp' meaning that wild animals are free to move through our site, such as elephants, lions, leopards, hyenas, hippo and more. By entering our lodge you are understanding of these factors and take full responsibility to ensure your safety whilst visiting us. We strictly operate a 'no kids under 12 years' policy, in the best interest of the safety of young children in the bush.
Zambian Nationals – $45
Non Nationals – $50
1.5% Tourism Levy & 10% Service Fee is added to all quoted accommodation rates.
INCLUDES
Accommodation (including towels and bedding)
Food & beverage preparation
Basic laundry service
WIFI (mornings and evenings)
EXCLUDES
Transfers
Flights
Activities
Food & beverages
National park fees