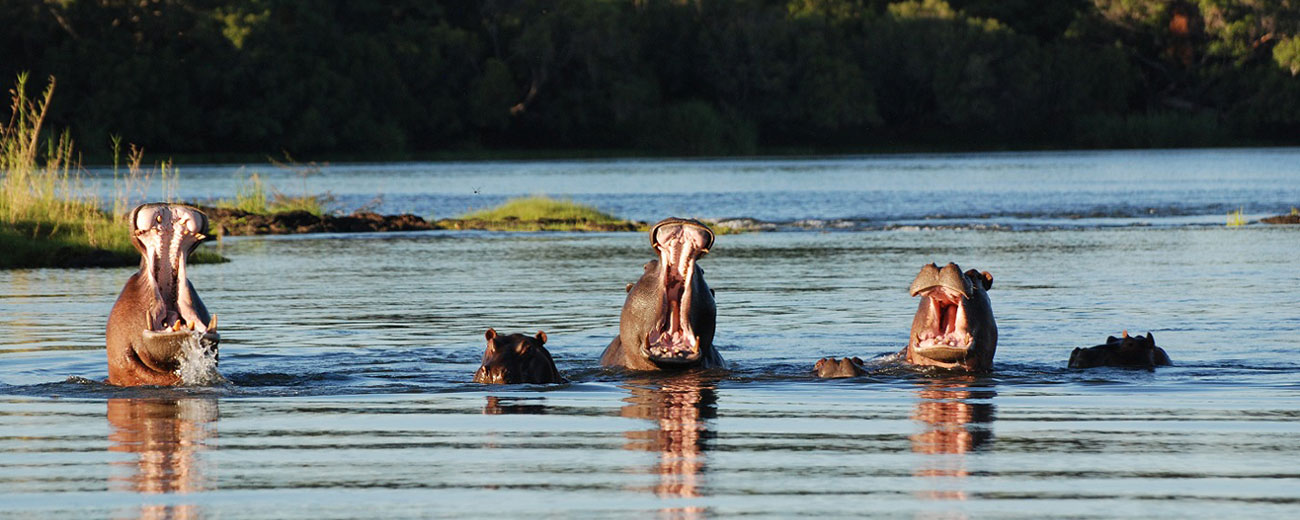 KAYUBE ESTATE ZAMBEZI RIVER
Kayube has a most romantic setting on the banks of the upper Zambezi River. The lodgings, scattered along the river bank, each one very private, consists of a spacious and luxurious 2 bed-roomed house with pool, three bungalows on stilts with big sliding doors and a deck all along the front, hidden away amongst enormous riverine trees, and the quaint Mama out of Africa, once the mobile dressing room for the 'Out of Africa' film crew and now resting under a huge thatched roof.
A place surrounded by natural beauty, the river with its for-ever changing moods the wildlife, elephants, buffalo, giraffe and many different antelopes just to name a few are seen and heard from the Zambezi National Park across the river, the resident hippos and the amazing birding opportunities are all around.
A small cage pool surrounded by a sundeck floats in the Zambezi River. It is difficult to pull yourself away to explore the Victoria Falls ,approx. 20 km downstream, and all Livingstone and the region has to offer.
These unique self-catering options are ideal for a longer stay of a week or more but can also be rented for a minimum of 2 nights.
Kayube is owned by Countess Corinna von Bluecher, who started Kayube as a farm. Now retired Corinna divides her time between Germany and Kayube and shares this amazing place as well as part of her own residence with guests who love nature, wildlife and the romance of the Zambezi as much as she does.
Peter and Karien Kermer, also living at Kayube, manage the Estate and the lodgings. Peter is also in charge of the river activities.
FACILITIES
Laundry Facilities
Parking
Plunge Pool
Swimming pool
Wi-Fi
ACTIVITIES
Fishing
Game Drives
Livingstone Tours
Sunset Cruises
Tour of the Falls
Please Contact us for our rates
[/fusion_text] [/fusion_builder_column_inner]
[/fusion_builder_row_inner]