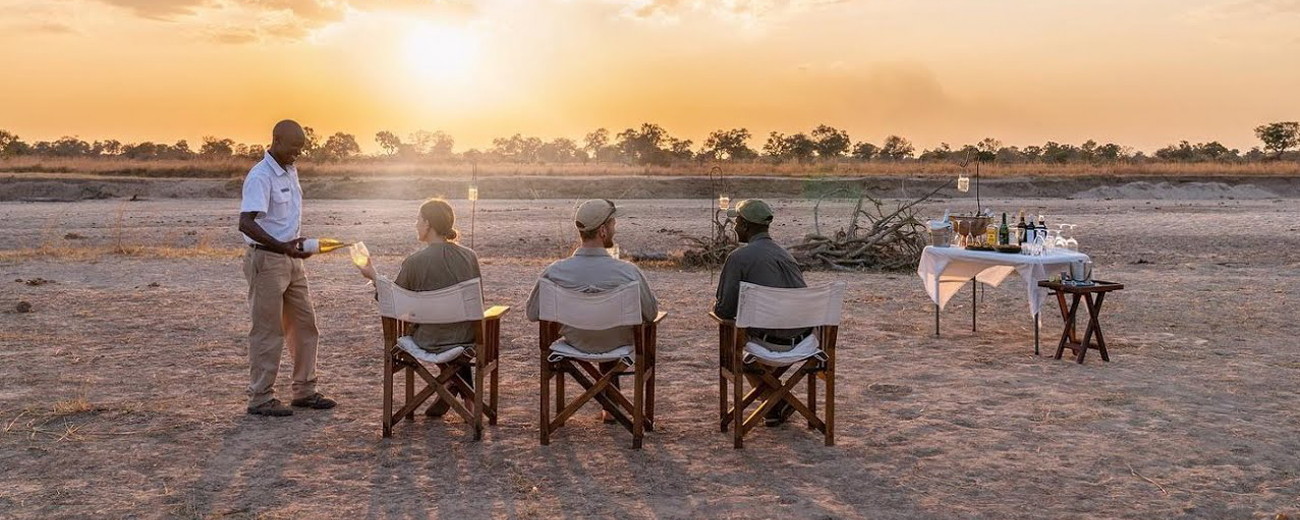 After many years of working with top Safari Operators and traveling around all the tourist destinations in Zambia, Authentic Safaris Zambia was established to share our passion for Zambia with travellers from all over the World. We deal exclusively in Zambia; this is a destination we know very well and are so passionate about. All the destinations we sell have unique tourist attractions and our clients have a choice to either visit one or book an itinerary that combines two or more of these beautiful holiday destinations.
We enjoy strong and lasting relationships with suppliers such as hotels, lodges, camps and local charter companies around Zambia which we recommend and book for our clients.
All our holidays are designed to suit the interests of individual clients; we will listen to you and work with you to put together an itinerary that will ultimately give you an experience of a lifetime. We are committed to providing a safe and reliable one stop shop for safari and travel needs to Zambia and we look forward to handling your next trip to Zambia.
At Authentic Safaris Zambia, all our trips are tailor-made down to the finest detail around your tastes and interests. Quite simply, we listen to what you want and then carefully design an individual trip to match, working to your budget and with an absolute commitment to quality.
We have genuine experts who have travelled many times or lived in the areas that we recommend and book for our clients. Our specialists will design a trip around you, show you the highlights in a different light, and introduce you to places and experiences that others might miss.
We spend time travelling each year to top up our knowledge and discover new hidden gems, stay in the accommodation and meet our guides – many of whom are firm friends. Besides Zambia, we also book arrange and book safaris for Botswana, Malawi and Zimbabwe. You can book a safari holiday to any of these nations through Authentic Safaris Zambia; a combination of two or more of these countries makes a great African safari experience!
We really can help you create an awesome African adventure, so please do get in touch and give us the chance to shine!
WHAT MAKES YOUR COMPANY UNIQUE?
As a team of experts who have been in this industry for a longtime, we continually strive to offer the best services to all our clients based on the following four key elements:
The best advice possible. Really good advice is the cornerstone requirement for any 'specialist' safari holiday, and will turn your experience of Africa from a 'good' holiday to an 'exceptional' holiday. Safari specialists from our team are continually travelling to check up on places, visit new destinations and learn about the practicalities of travelling around these destinations.
A friendly, personal and caring service. Planning and booking a specialist safari holiday should be a fun and energizing experience. We have always been a small company offering a very personal service. All of our customers are extremely important to us and treated as such. We are passionate about Zambia and genuinely care about the success of every holiday we arrange.
A totally professional service at all times. We endeavour to provide prompt responses to all enquiries and questions, clear and correct information at all times, flexibility throughout and attention to detail with your preferences and requirements.
Good value for money. All our customers require good value for money and fair pricing every time they book their safari holiday through us. On a more subtle note, our specialist knowledge is crucial in ensuring you really make the most of your holiday budget, but of course, without compromise on your interests.
We really can help you create an awesome African adventure, so please do get in touch and give us the chance to shine!
ACTIVITIES
Game Drive Safaris
Photographic Safaris
Canoeing Safaris
Walking Safaris
Privately Guided Safaris
Fishing Trips
Honeymoon Safaris
Family Safaris
Mobile Safaris
Birding Safaris
Elephant Back Safaris
Guided Victoria Falls tours
Cultural Tours
Helicopter Flights
Microlight Flights
All Inclusive Packaged Tours
Sunset River Cruises
White Water Rafting Trips
Bat Migration
SERVICES
Accommodation Bookings (Hotels/Lodges/Camps)
Activities Bookings
Domestic Flights & Transfers Bookings
Safaris & Tours Bookings
Tailor-made Safari itineraries
Special interest safaris (Honeymoon, family safaris, birders etc)
Car Hire Bookings
Private Charter Flights Bookings
Group Travel Bookings
General Travel Advice
INCLUDES
Domestic Flights
Meals
Drinks
Departure Taxes
Accommodation
Park Fees
Qualified driver / guide
EXCLUDES
International Flights
Medical Insurance