Lion Walks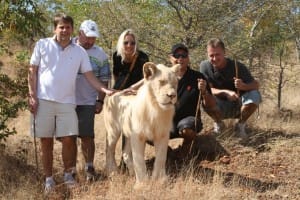 P
erhaps one of the most extraordinary experiences that one can experience in Zambia, is the opportunity to walk with lions. As you explore the African bush with the company of lions, you will feel part of the pride and will experience how lions interact in their natural environment.
Your journey with the lions has a deeper meaning than you may expect. For many of the lions, part of their passage is rehabilitation. Taking cubs out in the wild for a stroll forms part of stage one of the African Lion and Environmental Research Trust. This allows them to build confidence, practice hunting techniques and explore their natural habitat. By joining these cubs on their walk, you are assisting in the pre-release and funding of these beautiful creatures.
Most walks with lions start with an introduction to these beautiful creatures as well as the background of the conservation efforts in place to rehabilitate them and to protect their natural environment. You will also be briefed with a list of "do's and don'ts" when walking with these magnificent beasts. During your walk you will be accompanied by an experienced guide, scouts and handlers to make sure your experience with the lions goes smoothly.  You may have the opportunity during your walk to take pictures with the lions and experience an African lion close- up. Walks with the lions usually last in the region of 1 to 2 hours, after which you may be able to purchase merchandise, a DVD or other memorabilia, all of which will contribute towards the funding of the lion project.
Getting Involved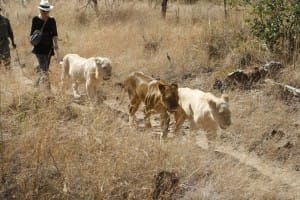 Zambia also offers the opportunity to partake in a hands-on volunteer project. The Livingstone Lion Conservation Volunteer Project has formed part of the African Lion Rehabilitation & Release into the Wild Programme. The programme takes place within the Mosi- Oa- Tunya National Park where you will be based to assist with conservation efforts. The ALERT programme is divided into 4 different areas:
Lion Rehabilitation-
During this phase you will work hands on with the lions every day. The lions need to become familiar with their natural habitat during this stage and start their hunting tactics. Once they are larger cubs they will be able to bring bigger prey down under the supervision of handlers, trained guides and volunteers.  You will take care of the lions and feed and clean them on a daily basis.
Research-
Research is conducted to better understand the lion's behaviour. Walking with lions presents a unique opportunity to observe them in their natural habitat. Data collected is used to make decisions about the animal's well- being and eventual release. Volunteers will assist the research technician in analysing data.
Conservation Education-
You will have the opportunity to join the conservation education program and visit local schools to gain support for education through conservation.  Volunteers will be given guidance and full support in lesson training.
Community Development-
Volunteers will have the opportunity to involve themselves in various community projects. These may include health, education, training and the sustainable use of natural resources.
Lions form an integral part of the Africa's fragile eco- system. Their numbers have dwindled from around 200 000 in the wild 40 years ago, to an estimated 32 000 living in the wild in 2012. Become part of the change to protect this magnificent species.