Chimfunshi Chimp Sanctuary

T

he Siddle's retired to farm at Chimfunshi in the late seventies. Locally famous for caring for animals, Sheila received in 1983 a young chimpanzee that had been confiscated from Zairean poachers. The Chimpanzee wasn't expected to survive, but Sheila persisted and nursed the animals back to health. That act of love sparked off a process that has turned Chimfunshi into an internationally recognised sanctuary and rehabilitation centre. In fact, it is the only successful centre of its kind in the world; surviving on the tenacity and ingenuity of David and Sheila as well the financial support of well wishers (as opposed to international wildlife conservation agencies). Once millions of chimpanzees roamed the forests of 25 countries in equatorial Africa. Today they are an endangered species.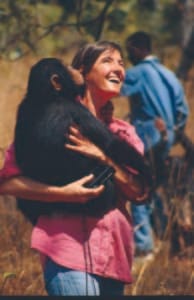 Chimfunshi is now home to over fifty chimpanzees housed in two enclosures – one walled and the other solar power electric fencing – with cages for the new introductions. But Chimfunshi is outgrowing itself. Plans for the acquisition of more land have developed into the formation of the Chimfunshi Wildlife Orphanage Trust.
The Trust has purchased a neighbouring farm of ten thousand acres. the intention is to create a 2500 acre fenced enclosure for the chimps while the balance will be dedicated to a wildlife preserve, education facilities and a tourist lodge. The lengthy process of acquiring the necessary funds to facilitate this ambitious project have already begun.
Further information can be requested from "Friends of Chimfunshi" P.O. Box 3555, Kempton Park, 1620 South Africa. Fax: (011) 606-2492. Donations are urgently needed and can be sent to the same address.
Although Chimfunshi does not cater for tourists just yet, accommodation is available for paying guests who are genuinely interested in chimpanzees. Messages to let them know you're coming can be left at 311293 in Chingola. Fax: 311100.
If you're in this remote part of north western Zambia, it is well worth a visit. In fact it's worth taking a trip here from anywhere in Zambia, such is the privilege of being able to spend time with these fascinating animals. In a world of crass commercialism, Chimfunshi thrives on unconditional love and absolute dedication.
Chimfunshi Campsite
Camping area: $10 per person per night. Hot showers available
Thatched Chalet: $ 20 per person per night, 2 beds with mattreses
For sale: Charcoal – braai packs, coffee, tea, powdered milk or fresh milk, popcorn, chips, baked beans, bully beef, matches
Bar: Beers and cool drinks
Canoes available
Boat trips: The Africa Queen with outboard engine and coxswain, can take between five and six people.
For further information contact Marggie Katola Tel Chingola 311293 during working hours.